It's Women's History Month, which I'm going to use as an excuse to ramble about a very cool historical lady I learned about only recently: Victoria Woodhull.
Victoria once said she was "a child without a childhood". Born Victoria California Claflin, the seventh of ten children, she had only a few years in school before dropping out to support the family by begging and helping to raise her younger sisters. Her father, an abuser and a drunk, bought an old mill and burned it down for the insurance money, an act which got the family kicked out of town. In their new home, Victoria and her beloved younger sister Tennessee (Tennie) began working as clairvoyants. When she fell ill, 28 year old doctor Canning Woodhull treated her. He fell in love, and within a year they were married. Victoria was 15.
Married life was not easy for Victoria. Her first child, named Byron after the poet, was born developmentally disabled. Her husband, unsuccessful as a doctor, spent much of what he earned on alcohol, so Victoria began to take odd jobs to support the family, working first as a dressmaker, and then as an actress. When her husband delivered their second child, left both mother and newborn bleeding, and didn't return for three days, Victoria decided she was done with him. She spent the next several years traveling with her birth family. She posed alongside Tennie first as mediums, then as healers who could cure cancer. At one point the family was charged with nine counts of fraud, but they left town before they could be apprehended.
Eventually Victoria and her sister Tennie decided they wanted a fresh start. They moved, along with Victoria's children and new husband Colonel James Blood, to New York City, where they billed themselves as simple clairvoyants. One of their clients was multimillionaire Cornelius Vanderbilt, who fell in love with Tennie and who encouraged the sisters to go into business together. Their business received a boost on Black Friday. As others frantically sold socks, Victoria stood on the steps of the stock exchange – women weren't allowed in – and sent couriers inside to buy. The risk paid off, and Victoria earned a tidy sum, which she and Tennie used to open up a brokerage business. They were the first American women to ever do so, and the novelty of it catapulted them to fame. The experienced Vanderbilt helped manage the firm, and Colonel Blood was his wife's personal secretary. She and Tennie used profits from the brokerage to start up a weekly newspaper.
Victoria's life up until this point had certainly been unconventonial, however the archives of the newspaper make clear how radical she truly was. The paper exposed financial fraud, published the first English-language version of the Communist Manifesto, and made impassioned arguments on social issues which challenged the morals of the period.

After the death of a young woman from an abortion gone wrong, which caused most people to call for stricter penalties against abortion, Woodull published The Social Volcano (Sept 16th, 1871 edition of the paper), writing:

You have erected a social system which you teach from childhood to manhood, which you inculcate at home, at school, at church, and in all your social relations. Yet the victims are made daily in spite of the inhuman punishment you inflict for a non-compliance with your standard. Now in dealing with your system, we say here are a hundred victims; if they have no means of escape, at least ten will commit suicide, at least fifty will be driven from home into the streets, and the remainder will have the finger of scorn pointed at them so long as they live, while ninety children will be brought into the world under a ban of shame, which the better men they become, the harder will that ban be to bear, the deeper will it sink into their heart, although they had no control over the circumstances that make them degraded for life.

The Rosenzweigs step in and say, practically, "I will spare you nine deaths out of the en (for only one in a hundred dies under my hands). I will send fifty more out of the hundred victims home, still virtuous according to your rules, because no one knows of the so-called transgression, and the remainder shall have their error known only to their parents or relatives, and the outside world and future husbands shall remain in happy and blissful ignorance of the truth. All this I will do for one hundred dollars each." You find the money, you have the private interview with Rosenzweig (not that you are interested; oh, no, it is all out of pure friendship; you didn't do it; it was some other man.) You cheat society's rules of its victims, until another victim dies. Then you howl at their depravity and Rosenzweig's villainy.
They published a tract about free love on August 26th, 1871:

In this country; and in this age, we have, in one sphere of social affairs, a successful and triumphant practical illustration of the theory that the recognition of the rights of the individual is the talisman of order and harmony in society. . . . Not only is he permitted "to worship God according to the dictates of his own conscience," but, equally, to neglect or refuse to worship Him altogether; and the result is peace and fraternity; in the place of the inquisition, the burning fagot and war.

For one, I reject and repudiate the interference of the State in my morals, precisely as I do the interference of the church to prescribe my religious deportment or believe. The outrage on human rights is in my view no less in kind to assume to determine whom men and women may love, and what manifestation they may make of that sentiment, than it is to burn them at Geneva or Smithfield for heretical practice or faith.
(Woodhull herself was an ardent proponent of free love, saying in a speech a few months later, "Yes, I am a Free Lover. I have an inalienable, constitutional and natural right to love whom I may, to love as long or as short a period as I can; to change that love every day if I please, and with that right neither you nor any law you can frame have any right to interfere. And I have the further right to demand a free and unrestricted exercise of that right, and it is your duty not only to accord it, but, as a community, to see that I am protected in it. I trust that I am fully understood, for I mean just that, and nothing less!")
Then there's this gem on the failure of the credit system after the gold speculation crisis which caused the 1869 crash, which sounds sadly familiar to us now in 2012:

The sufferers by the credit system are generally those who leas suspect themselves to be victims of the robbery. They know that many people fail in business, and that their creditors are supposed to lose large sums of money; but, as long as none of these debts are due to them, they do not feel concerned. They know, also, that they are obliged to pay unreasonably high prices for many things; but they do not dream that there is any connection between these prices and the bad debts and bankruptcy resulting from this abuse of credits. But there is such connection, and the mass of consumers have to pay roundly for the folly and fraud of men who undertake to do an immense business with little or no capital, and who for a while pride themselves on the excellence of their credit…..
I also greatly enjoy the "Women Items" that they ran occasionally:

Marion V. Churchill very sensibly says: "I would rather see a policewoman, club in hand, marching an offender to punishment than to see that same woman marched to punishment, by a policeman for lack of money which would have been her honorable salary in the police service. There are women in the world better fitted for police than for parlor duty. Let them do it." (February 3rd, 1872)

Horace Greeley's advice to women to learn how to cook a steak, and not to mind suffrage, is good under circumstances. But without the steak the knowledge to cook it is valueless. This is where the suffrage will come in. (September 9, 1871)
The paper published a great deal more, although sadly only a small portion of the paper is online. (It's all on microform, though! If Victoria or Tennie were here, they'd prophecy a trip to the library in my future.)
Woodhull was very much involved in the women's suffrage movement. She was the second woman to testify before congress, and like the first, Elizabeth Cady Stanton, she petitioned for the vote: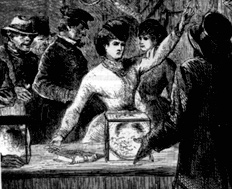 "Women constitute a majority of the people of this country – they hold vast portions of the nation's wealth and pay a proportionate share of the taxes. They are intrusted with the most holy duties and the most vital responsibilities of society; they bear, rear, and educate men; they train and mould their characters… they are the secret counsellors, the best advisers, the most devoted aids in the most trying period's of men's lives, and yet men shrink from trusting them in the common questions of ordinary politics. Men trust women in the market, in the shop, on the highway and the railroad, and in all other public places and assemblies, but when they propose to carry a slip of paper with a name upon it to the polls, they fear them."
In 1872, Woodhull ran for President of the United States. (She asked Frederick Douglas to be her running mate, in what appears to be an attempt to mend fences after the fight over the 15th amendment, which granted suffrage to all races, but not to women. Douglas declined the offer.) Victoria's name was kept off the ballot in many places, and there's evidence that votes for her were discarded. Then, two days before the election, Victoria, her husband and Tennie were all arrested for "publishing an obscene newspaper." The man responsible for the arrest, moralist Anthony Comstock, was a pretty vile man: he destroyed thousands of books and millions of pictures he deemed inappropriate, clashed with activists Emma Goldman and Margaret Sanger, and allegedly boasted that he'd driven fifteen people to suicide. Victoria, Tennie, and Blood spent six months in prison before being released on a technicality. Victoria never got a chance to try and vote for herself.
The last forty years of Victoria's life were not as sensational as her first forty, but she continued to advocate for women's suffrage and to publish radical writings before retiring at the turn of the century. She and her sister moved to England, where she passed away in June of 1927, seven years after the United States finally granted women the right to vote.
Many of her contemporaries called Victoria insane, a prostitute, a devil. The famous cartoonist Thomas Nast called her Mrs. Satan. Even other suffragists at times found her too radical. But with a hundred years' hindsight, it's clear that Victoria Woodhull was a brave, resourceful, charismatic, brilliant woman overflowing with the capacity to love and possessed of a sharp sense of justice. I'd vote for that.
Sources:
Victoria In Her Own Words (source for speeches)
WC Weekly archives
Victoria Woodhull: Fearless Feminist by Kate Havelin
Legal Contender: Victoria C. Woodhull, first woman to run for US President – Feminist Geek
and, as always, Wikipedia